We pride ourselves on manufacturing accurate and professional Braille labels of all kinds. We've made custom Braille signs for many industries.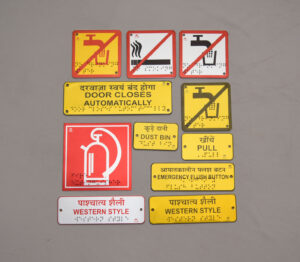 Braille labels are made on anodized aluminium that protects against corrosion, enhances aesthetic qualities, resists scratching, and is one of the most durable, cost-effective, and convenient surface finishes available. The multi-step process may take more time but produces a superior result. At Kinelectrolines Braille labels have greater corrosion protection and resistance to wear in extreme environments or with moving mechanical parts subject to a lot of friction.
Braille Name Plate Manufacturing
Unlike other processes, we do not super impose the dots on the surface of the Braille name plate which always runs the risk of popping off over a while. The braille is very much a part of the surface that is power die punched and made to match any standard as you may desire and customize. You can choose from a variety of contracted, uncontracted or alphabetical braille meeting the requirements of any language you desire. The entire operations right from anodizing the aluminium, digitally printed profile cut, power punching the braille is all done in our facility with stringent quality control and management methods in place. With the advantage of digital printing and long-lasting print life, the content for those with vision also has a high aesthetic appeal.
Custom braille signs are a regular staple in society, ensuring the comfort of the blind and visually impaired. As a leading Industrial Name Plates manufacture, Kinelectrolines , pride ourselves on producing accurate and professional Braille labels of all kinds. We've made custom Braille signs for many industries. We help your organization accommodate everyone! Our Braille labels meet all requirements for Braille products.
We understand that our customers know exactly what they want their product to be like, which is why we offer customization for any Kinelectrolines product. Our range of printing capabilities ensures that all the metal nameplates we manufacture fit your requirements. Customization technologies include [Include what you do]. 
The most important thing in Braille is, " It should be at the right place, have the right feel and should not peel off". It should give the right meaning to the person who is seeking information, the dots should be clear and readable. At Kinelectrolines, we have considered each minute thing and have prepared Braille of international standards which are now used by Indian Railways too! The offered "Braille" product by Kinelectrolines India Pvt Ltd has a superior finishing, elegance, sturdiness, and durability.
Braille is a system of raised dots that can be read with the fingers by people who are blind, visually impaired, or who have low vision. Braille is not a language; it is another way to read and write a language. Characters are represented by an arrangement of raised dots. Each braille character or cell is made up of six dot positions, arranged in a rectangle comprising of two columns of three dots. A dot may be raised at any of the six positions to form many combinations. Counting the space in which no dots are raised, there are sixty-four such combinations. Rather, it is a code by which many languages—such as English, Spanish, Arabic, Chinese, and dozens of others—may be written and read. Braille is used by thousands of people all over the world in their native languages. Braille has become not only an effective means of communication but also an essential avenue for achieving and enhancing literacy for people who are blind or have significant vision loss. Braille is here to stay!