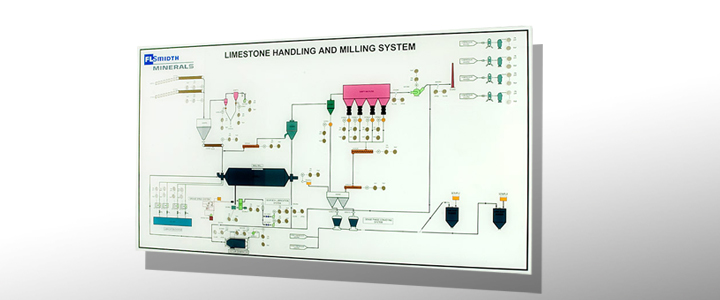 Mimic Panels
We  specialize in meticulously crafted Mimic Panels, offering the flexibility to choose from anodized aluminum or your preferred polymer material or substrate. Our panels are designed to seamlessly integrate into your existing setup, creating a visually appealing and cohesive control room environment. Built to withstand hard industrial environments, our Mimic Panels are engineered for durability and consistent performance or applications such as process control, automation, and monitoring systems. With our precision CNC finishing techniques, we ensure a perfect fit and seamless installation, Expect exceptional quality, personalized solutions, and shorter lead times when you choose Kinelectro Lines for your Mimic Panel requirements.
Our Manufacturing Process
Our manufacturing process is meticulously designed to ensure the highest quality and precision in every Mimic Panel we produce. Our process encompasses the following steps:
Design and Engineering: We work closely with you to understand your requirements and create a detailed blueprint for your Mimic Panels, considering dimensions, cut-outs, colors, and industry standards.
Material Selection: We offer a range of materials, including anodized aluminum and polymers, helping you choose the most suitable material for durability, aesthetics, and compatibility with your industrial environment.
CNC Machining: Our state-of-the-art CNC machining techniques enable us to achieve precise cut-outs, pitch, and specifications, ensuring seamless integration with switches, displays, and other components.
Printing and Finishing: Using specialized printing techniques, we transfer your desired colors and designs onto the panel surface, ensuring vibrant and long-lasting visuals. We also apply a protective coating for enhanced durability.
Quality Control: Before packaging and delivery, our dedicated quality control team conducts rigorous checks for visual appearance, dimensional accuracy, and functionality, ensuring only the finest panels are shipped to you.
Packaging and Delivery: We carefully package your Mimic Panels to ensure they arrive in pristine condition. We utilize appropriate packaging materials and work with reliable shipping partners to deliver your panels securely and on time.
We prioritize craftsmanship, precision, and quality control throughout our manufacturing process. Trust us to bring your vision to life and provide you with superior Mimic Panels tailored to your exact requirements.
Industries Benefiting from Mimic Panels
Manufacturing and Industrial Automation
Enhancing control and monitoring in production lines and machinery.
Oil and Gas
Enabling precise monitoring of critical infrastructure for safe and efficient operations.
Power Generation and Distribution
Facilitating control and monitoring of electrical systems
Water and Wastewater Treatment
Ensuring efficient treatment processes and maintenance of water quality standards.
Transportation and Railways
Supporting monitoring and management of critical infrastructure for smooth operations and passenger safety.
Building Management Systems
Providing centralized control and monitoring of HVAC, lighting, security systems, and fire safety.
we excel in providing both Mimic Panels and Facia Panels, each tailored to cater to the specific requirements of your industry. Our Mimic Panels are meticulously designed to enhance control, monitoring, and efficiency in your operations, offering a comprehensive solution that ensures seamless workflow management.
Simultaneously, our Facia Panels are crafted with precision to meet the unique demands of your industry. These panels not only offer a functional advantage but also provide a sleek and professional aesthetic to your control systems. Whether it's enhancing visual representation or optimizing user interface, our Facia Panels are designed to elevate your industry's performance.
Why Choose Our Mimic Panels?
Kinelectro Lines is your trusted partner for high-quality, customized Mimic Panels. With our expertise and commitment to excellence, we deliver outstanding products that enhance the efficiency and aesthetics of your control room environment. Contact us today to discuss your project and discover how our Mimic Panels can support your specific industry needs.