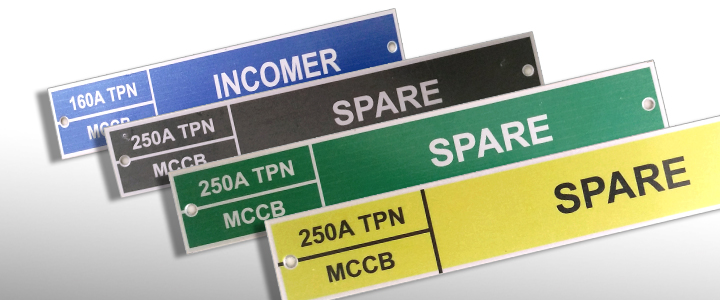 Legends
we understand the unique requirements of every industry. We offer a diverse range of options to meet your specific needs, providing customized legend plates that align with your branding and application demands. Our plates are crafted with precision and printed on premium materials, ensuring durability in demanding environments.
Customized Legend Plates:
We offer customization options to tailor legend plates to your requirements. Whether it's size, shape, color, or design, we have the flexibility to deliver personalized solutions that reflect your organization's branding and meet your application needs.
Premium Materials:
Our legend plates are meticulously crafted using premium materials such as Polyester, Polycarbonate, Vinyl, Thin Aluminum, or any substrate of your choice. These materials ensure durability and resistance to moisture, chemicals, abrasion, and fading, making them suitable for both indoor and outdoor applications.
Reliable Adhesives:
As a leading legend plates manufacturer, we prioritize reliability and durability when it comes to adhesives. Our legend plates are equipped with pressure-sensitive adhesives, including trusted options like 3M Part 467 MP and Nitto 5015. These adhesives provide a secure and long-lasting attachment, ensuring that your legend plates stay in place even in challenging conditions.
Screen Printing or Digital Printing:
We have the capabilities to accommodate your printing preferences. Whether you require screen printing or digital printing, our state-of-the-art production facilities can handle projects of any scale. We have no minimum order quantity (MoQ), recognizing that each project is unique and providing personalized solutions tailored to your specific requirements.
All electrical control panels have numerous switches and indicator lamps which are latched on with a legend plate indicating the nature of operation or status when switches on or off.
Why Choose Us?
We understand the unique challenges and demands of various industries, and our expertise enables us to deliver effective labeling solutions tailored to your industry needs.
As part of our comprehensive offerings, we also specialize in the production of asset labels designed to cater to a wide range of industries. These labels serve as a versatile and effective solution for all your labeling needs, providing a professional and efficient means of identifying and managing assets across various sectors.
Our use of reliable pressure-sensitive adhesives ensures that your legend plates stay securely attached, providing long-lasting durability even in demanding industrial environments. 
With our global delivery capability, we can deliver your legend plates anywhere in the world, ensuring prompt and efficient service no matter where your organization is located. At Kinelectro Lines, customer satisfaction is our top priority. We value open communication, prompt responses, and a collaborative approach, working closely with you to understand your unique requirements and provide tailored solutions that exceed your expectations.