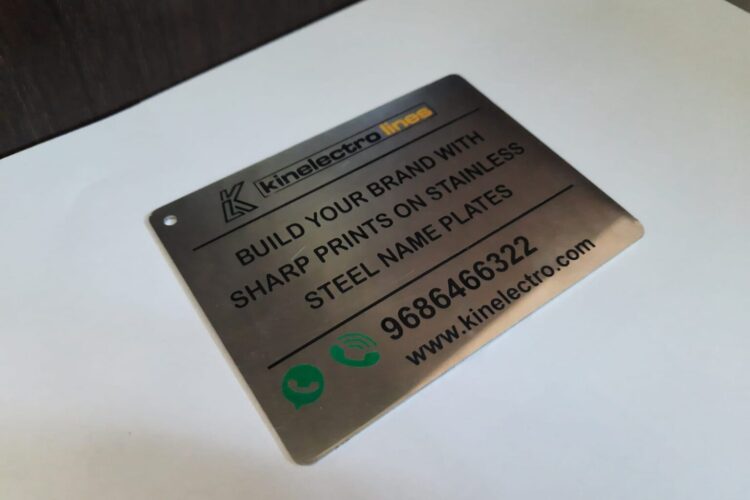 Stainless Steel Name Plates
We specialize in manufacturing high-quality stainless steel name plates that meet the needs of various industries. Our name plates offer a contemporary appearance, exceptional durability, and excellent visibility. With a dedicated processing line, we ensure precise printing and finishing to match your industry requirements.
We combine our expertise, advanced production techniques, and commitment on quality to deliver stainless steel name plates that meet the highest standards. Our team of skilled professionals are dedicated to understanding your custom & specific requirements to provide customized solutions that align with your drawing guidelines and application demands.
Industrial applications of Stainless-Steel Name Plates:
Stainless steel name plates have a wide range of applications in various industries due to their durability and exceptional qualities. Here are some common uses:
Industrial Equipment and Machinery
Food Processing and Packaging
Electrical and Electronics
Automotive and Transportation
Marine and Offshore Applications
Asset Tracking and Management
Why Choose Us for Stainless Steel Name Plates?
We take pride in providing personalized solutions tailored to your specific needs. Whether you have a specific design in mind or need assistance in creating a custom layout, our team is here to bring your vision to life. You can rely on us for reliability and timely delivery, as we understand the importance of meeting project schedules without compromising on quality. With our exceptional customer service, we aim to make your experience with us smooth and satisfactory. We are responsive to your inquiries, providing prompt support throughout the name plate ordering process. Our dedicated team is ready to address any concerns and provide assistance whenever needed.