We manufacture Barcoded, Serial numbered, QR coded Polyester, Polycarbonate or Aluminum Asset tags and labels.
Asset labels & tags help identify all details of the capital equipment / machinery purchased by the organization using either a unique serial number, barcode or a QR code. 
Asset labels & tags are typically affixed on the equipment / machinery either by pasting on them with a high performance adhesive or riveting with screws. 
Preferred asset tag substrates are anodized aluminium , polyester, polycarbonate and even vinyl. Most used designs have the company's logo or styling along with the code.
Kinelecto lines is of the leading asset tag & asset label manufactures in India, we make high quality customized asset labels and asset tags with the help of our advanced machineries and experts. We are the leading asset label suppliers as well. We deliver asset tags & labels anywhere in the world. We also manufactures Industrial name plates, Safety signage , Fascia panels, Identification labels and lot more.
Bar & QR codes printed on the asset tags can help to identify the right equipment's and reduce field entry errors. The function of asset tags has changed – to accommodate ever smaller, more mobile and more valuable assets. As a result, asset tags have changed – to be more smaller, more tamper resistant and to become more closely integrated with asset tracking software





Asset tags can be broadly classified into 3 categories of use :

• Track Equipment. Where's my asset? Tags are used to track as they move from tool crib to construction site, from loading dock to lab or just from room to room. Asset tags must stay with the asset itself – over its lifetime. Use for check-in / check-out.

• Inventory Control. What assets do we own? asset tags are the critical link as you perform periodic audits of your asset list and calculate the value of the asset over it's lifecycle.

• Prevent Theft. Could you return the asset? Make it easy for anyone to return a valuable laptop or instrument to the proper owner. Prevent "accidental" misappropriation of you asset by another department.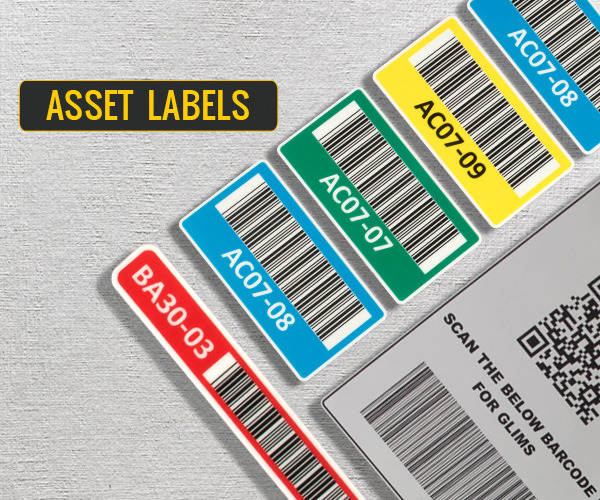 Here are some commonly used substrates on which the asset labels & tags are printed on :
1. Anodised Aluminium Asset labels & tags :
Printing on anodized pore printed aluminium results in durability and resistance to most solvents, salt, air, sun and extreme temperatures. To affix we could provide them with high performance pressure sensitive adhesives such as Nitto or 3M to peel and paste or have them with mounting holes to screw these labels & tags on to the equipment's / machinery's 
The labels & tags are custom made and available in your choice of sizes and print designs. We manufactures Anodised Aluminium Asset labels & tags based on your requirement.
2. Polyester Asset Labels:
Versatile Polyester Labels in matte and gloss finish provide excellent durability and dependable property identification for a wide variety of environments. It probably is the toughest polymer available for printing. As a leading polyester asset labels manufactures, we make custom labels as per your need.
Extreme durability and exceptional performance in even the most difficult environments. Polyester Labels are available in virtually any size or shape and any single color or combination of colors. The polyester material is backed with an exceptional Nitto Denko /3M Pressure sensitive adhesive that secures these premium labels for long lasting attachment and extended print life.
3. Polycarbonate Asset Labels:
Polycarbonate Labels and Tags are a popular choice in indoor applications, even if conditions cause abrasion. Polycarbonate is very well known and used for its high mechanical strength, impact resistance and dimensional stability. They're ideally suited for indoor and light-to-moderate industrial applications, including branding and product identification; tracking and securing of parts, equipment, machinery and other assets; caution, safety and warning messages; operator instructions and more. We make Polycarbonate Asset Labels as per your requirement.
High light transmission and low haze make polycarbonate one of the highest quality films available for labels and tags. The material offers resistance against stains, abrasion, moisture, corrosive chemicals, heat and flame, and these characteristics remain constant over a wide range of temperatures and humidity levels.
4. Vinyl Asset Labels:
Vinyl Asset Labels are an economical labelling solution for a wide variety of applications where moderate durability is adequate. Our durable soft white vinyl can conform to a number of surfaces, including often difficult to label irregular surfaces.  Contact us for Vinyl Asset Labels requirements. We manufacture high quality custom Vinyl Asset Labels as per your requirements
Note: All the labels use 3M /Avery coated pressure sensitive adhesive and have a low profile of making this label an excellent fit for unobtrusive labelling.