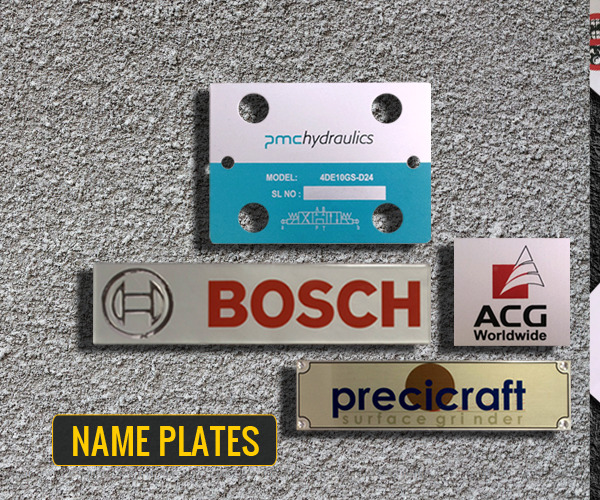 Name Plates
A name plate with the manufacturers name, information on capacity , manufacturing details, etc., is expected to last as long as the product. Does the print on your name plate last as long as you want it, do call on us and let us to take this responsibility.
We offer a comprehensive selection of nameplates, tags, and labels that cater your specific needs. With cutting-edge printing techniques like digital and screen printing, we deliver high-resolution and precision printing on our nameplates. This versatility allows us to handle orders of any scale, whether you require a small batch or large-scale production. Even just ONE
Our print resists abrasion, salt spray, acid corrosion , all of this is weathered to keep the print readable and after all the years of usage. 
As a renowned nameplate manufacturer, we take great pride in offering an extensive array of options to suit your unique demands. Whether you seek anodized aluminum nameplates known for their contemporary appearance and robustness or polymer and polycarbonate nameplates prized for their resilience in challenging environments, we possess the expertise and resources to meet your needs.
Our wide range of nameplates includes:
Aluminium Nameplates
Enhance equipment identification with durable anodized aluminium nameplates. Our custom-designed plates withstand harsh environments, featuring embedded barcodes and graphics for exceptional resistance to chemicals, heat, cold, abrasion, and weather elements. Request a quote or discuss your needs today.
Polymer Peel & Paste Labels
For light to moderate exposure, polymer nameplates offer vibrant graphics and durability. Our second surface printing method protects against the elements, making them suitable for indoor or outdoor use. Choose from a wide range of colors and enjoy lifetime durability. Customize your design with us.
Vinyl Peel & Paste Name Labels
Affordable and flexible, vinyl nameplates conform to irregular surfaces and challenging environments. Our soft white vinyl adheres easily, providing a cost-effective solution for indoor or outdoor use. Choose from various customization options and colors. We utilize long-lasting dyes for digital or screen printing, ensuring prints withstand harsh weather, chemicals, and industrial environments. Incorporate variable content like serial numbers and year of manufacture.
INDUSTRIAL USAGE
Our high-quality nameplates cater to a diverse range of industries, providing effective identification solutions for various applications. Here are some of the industries that commonly utilize our products:
Manufacturing and Industrial Sector: The manufacturing and industrial sector extensively relies on nameplates for equipment identification, work-in-process tracking, and safety labeling. Our durable and customizable nameplates are ideal for machinery, tools, control panels, safety signs, and product identification in factories, plants, and industrial facilities.
Automotive Industry: Nameplates play a crucial role in the automotive industry, where they are used for branding, model identification, and component labeling. Our high-resolution and long-lasting nameplates provide a professional and polished appearance, enhancing the overall aesthetic of vehicles.
Aerospace and Defense: In the aerospace and defense industries, nameplates are vital for equipment identification, serial number tracking, and compliance labeling. Our nameplates are designed to withstand the rigorous demands of these industries, including extreme temperatures, chemicals, and harsh environments.
Electronics and Electrical Equipment: Nameplates are extensively used in the electronics and electrical equipment industry for product branding, model information, and warning labels. Our nameplates offer excellent resistance to chemicals, ensuring that they maintain their clarity and functionality in demanding electronic and electrical environments.
Medical and Healthcare: In the medical and healthcare sector, nameplates are essential for equipment labeling, patient identification, and tracking. Our nameplates are designed to meet strict regulatory requirements, ensuring accuracy, durability, and readability in medical settings.
Oil and Gas: The oil and gas industry relies on durable nameplates for equipment identification, asset tracking, and safety labeling in challenging environments. Our nameplates are engineered to withstand exposure to chemicals, extreme temperatures, and corrosive substances commonly encountered in the oil and gas sector.
Transportation and Logistics: Nameplates play a vital role in the transportation and logistics industry for asset tracking, inventory management, and labeling of containers, pallets, and transportation vehicles. Our customizable nameplates help streamline processes, improve efficiency, and ensure accurate identification throughout the supply chain.
These are just a few examples of the industries that utilize our high-quality nameplates. We understand the unique requirements of each industry and offer tailored solutions to meet their specific needs. Whether it's for equipment identification, branding, compliance labeling, or safety signs, our nameplates provide reliable and durable identification solutions across a wide range of industries.
Why Choose Us:
We prioritize customer satisfaction and work closely with you to understand your unique needs and preferences. Our team of experts is dedicated to delivering superior quality and exceptional service, ensuring that we exceed your expectations at every step.
With advanced printing techniques, including digital printing and screen printing, we achieve high-resolution images, vibrant colors, and sharp text on our nameplates. This attention to detail ensures clear and easy readability, making our nameplates an effective identification solution. When you choose Kinelectro Lines, you can trust that your nameplates will be durable, customizable, and crafted with precision. We take pride in our ability to provide reliable identification solutions that enhance your branding, streamline processes, and withstand challenging environments.