Importance Of Name Plates And How We Manufacture Name Plates
Can You Read This!
Neither can we
While your equipment's and machinery put in the years of performance, the name it deserves fades away lot faster.
A name plate as simple and mundane as it sounds isn't something you want to see faded and scrawled on your machine. Don't you rather want them as long as your machine is put to use.
An extended print life on a name plate depends on a few factors which isn't as simple as the term name plate may sound, one needs to depend on technology, specific and detailed processes to achieve high quality and of course continues developments and improvements.
It is our business and core objective to transcend in producing high quality, long lasting printed parts. We have over the years coupled with continuous improvements, developments have gotten processes in place, our print is to last as long as your equipment and machinery.
Is it not a pleasurable and proud feeling to have the print on your parts intact years after your customers have put the machinery and equipment's in use. In our understanding it underlines the quality you are so concerned about when having built such equipment and machinery.
Anodizing the aluminium, impregnating the inks into the anodic pores are some of the techniques we follow to have these parts last longer than any other printing processes.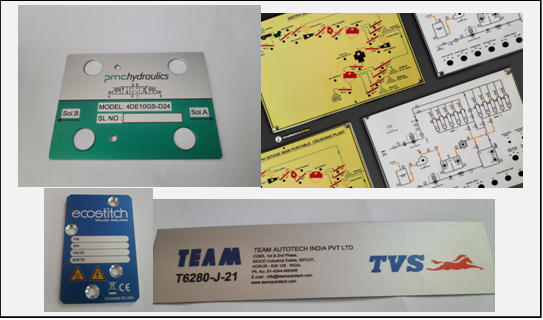 But why we don't stop there, at Kinelectro Lines, we are happy to help you with no hassles on insisting on minimum order quantities.
As a leading Name Plate Manufacture, we bring in value added services of printing on variable content such as your equipment or machinery's serial numbers, year of manufacture etc., rather than letting you struggling the last minute trying to punch this information on your name plates. All of which results in a below average appearance, not to mention a very obsolescent technique being followed.
There is a cost and burden of time to develop tools and dies for low volume parts which require a profile cut, this is resolved by running the parts to achieve precision cuts on a CNC machine, thereby being quick and cost effective.
Understanding customer concerns and resolving them is what has kept us going for 20 + years and counting, we do our best to feel your requirements and expectations. There is no job too big or too small ,reaching your expectations give us more business and in many cases references to other prospects.
We must accept that the name plate reflects a lot on the build and quality of the equipment or machinery, money spent on improving the name plate isn't much, it does add lot more value and will always be an underlying statement which cannot be overlooked.
Let the " name plate " no longer be a mundane part , give it the attention you should , think of better designs, graphics, you could consider incorporating QR codes, Bar codes , we are here to print all that you can imagine and design.